Main Stage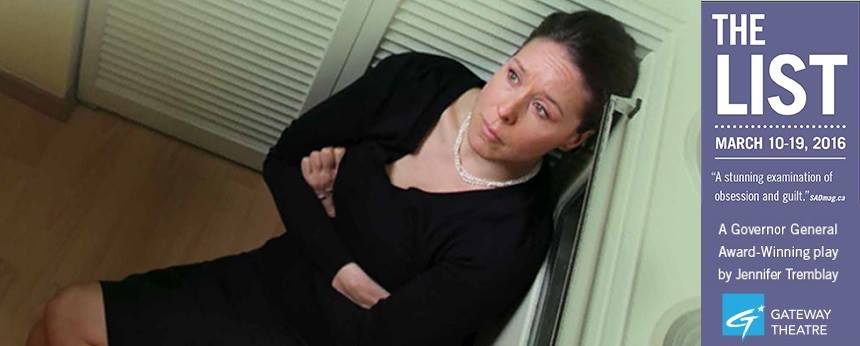 The Main Stage Series
Dedicated to presenting the works of exciting contemporary Francophone playwrights for an English speaking audience on the West Coast, BoucheWHACKED! Main Stage program embraces the fusion of text, media arts, sight specific and multilingual work, while providing a platform for cross pollination of Canadian artists of different languages and an environment for diverse artistic practitioners to come together in a common artistic goal.
The List
Written by Jennifer Tremblay
Translated by Shelley Tepperman
Featuring France Perras | Directed by Jack Paterson | Set and Lights by John Webber | Costumes by Drew Facey | Sound by Mishelle Cuttler | Stage Manged by Lois Dawson
2008 Governor General Award Winner
A woman invites us into her kitchen. Her neighbour is dead. Is she culpable for the death? The woman, who prides herself on never letting anything slip by, has overlooked an item on her list. A riveting tale of everyday to-do lists in which the essential and the ordinary are inextricably entwined.
March 10-19, 2016: The Richmond Gateway Theatre
"The List grapples with guilt in a gorgeous production...deeply moving"
The Georgia Straight
"…an hour of power…taking us into the soul of a woman punished by guilt…a powerful one-woman play blanketed in loneliness and regret, and served as an ace… leaving us to ponder the moments in this woman's life that are uncomfortably familiar — and re-examine our own"
The Richmond News
"The List rhymes off our frailties poignantly…As directed by Jack Paterson, this show works exceedingly well…Perras is quiet, forceful, embracing and compelling. Truth and love flow from her richly…with with grace and subtlety. But most importantly, with believability…the show impacts viscerally…had me wet with tears… Perras is nuanced and subtle and poised and pained as she struggles with her guilt, anger and hurt …This is tender touching theatre."
brokenlegreviews.blogspot.ca
---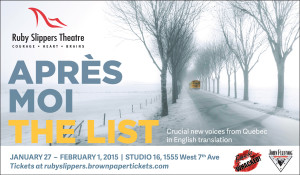 West Coast English language premieres
CELEBRATE CRUCIAL NEW VOICES FROM QUEBEC IN ENGLISH TRANSLATION!
Ruby Slippers Theatre presents
In association with BoucheWHACKED! Theatre Collective
Après Moi & The List
January 27-February 1, 2015
Studio 16
1555 West 7th Avenue, Vancouver, BC
January 27-February 1, 2015: Studio 16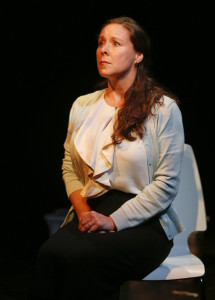 "…ambitious and beautifully realized…Under Jack Paterson's direction, France Perras is a marvel of containment, reciting household tasks with the hauteur and grace of a beneficent queen. When she finally allows her grief some release, it's heartbreaking."
The Georgia Straight
"Poetically scripted and compellingly executed…A stunning examination of obsession and guilt, love and family, friendship and sacrifice…Evocative set design and dra­matic light­ing com­pli­ment a pow­er­ful per­for­mance by Perras."
Sad Mag
"…slow burning, compelling and rich…a moving evening of theatre to ponder for days after… haunting…"
Vancouverpresents.com
"France Perras' portrayal of the woman offers blunt insights that hit like a cold knife and shiver around you like the snow that falls over the woman, the closing curtain of the show."
The Ubyssey
"…brilliant truthful acting, profound emotion and intricately detailed storytelling…"
OutTV
"The List (directed by Jack Paterson) was unbelievable. It seemed so simple to begin with…It is an honour to be in the room when an actor transcends themselves and takes you with them… I did not want to breathe too hard lest I break the moment."
GVPTA Blog
For more info: rubyslippers.ca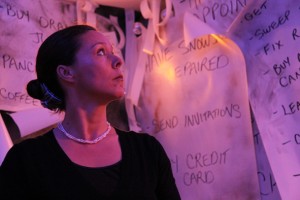 West Coast English language premiere
2008 Governor General Award winning play
The List
By Jennifer Tremblay
Translated by Shelley Tepperman
Featuring France Perras | Directed by Jack Paterson | Set and Art by Moe Curtin | Sound by Jordan Watkins | Assistant Directed by Michael Gunion | Stage Managed by Anthony Liam Kearns
"...a mesmerizing performance...Director Paterson is exploring smaller and smaller spaces -and for The List that tightly focused space really works." - Jo Ledingham, The Courier
"A provocative, seamless, and poignant piece of work. So wonderful of experience theatre in such a unique and very personal way." - Gina Chiarelli, Jessie Award winer
A woman invites us into her life of meticulous order. While she was consumed with childraising and housekeeping, her neighbour, a mother of five, lost her life. What neglected task on her never-ending to do lists could have prevented the tragedy? A riveting contemporary tale in which the crucial and the ordinary are inextricably entwined.
Tuesday to Sunday, July 19 - 26, 2012 ● Neanderthal Festival The Cultch ● 1895 Venables St.
Limited Seating
The List Talk Back with actor France Perras and director Jack Paterson
Gallery